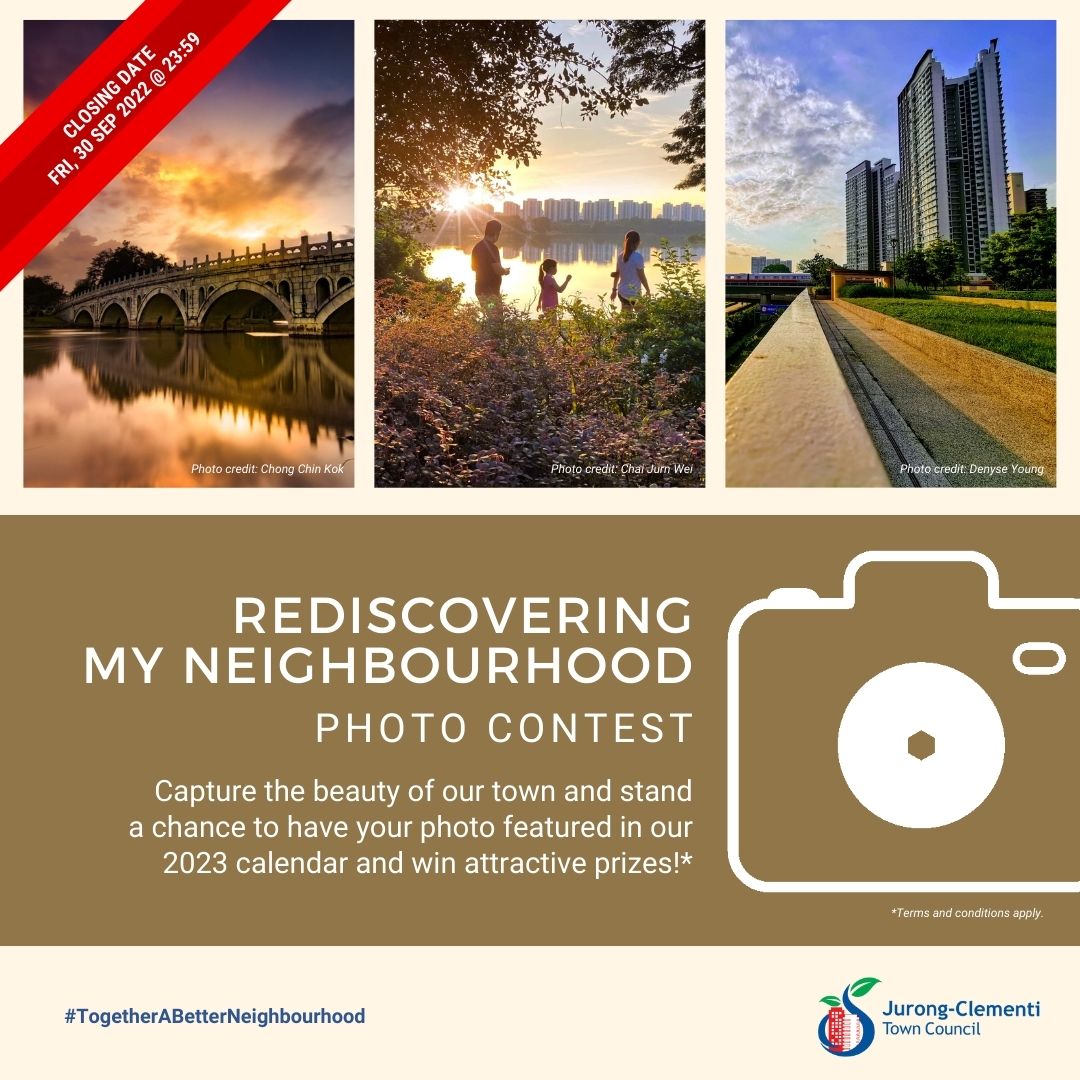 Capture the beauty of our town, the diversity of its nature, flora & fauna and how our green spaces are well-loved by residents and stand a chance to have your photographs featured in our 2023 Calendar and win attractive prizes!
HOW TO PARTICIPATE
Send your entries to Jurong-Clementi Town Council by Friday, 30 September 2022 via:
Email to enquiry@jrtc.org.sg
CLOSING DATE: 30 September 2022, 2359 hours
Results will be announced in November 2022.
PRIZES
·     1st Prize: $250 FairPrice shopping vouchers
·     2nd Prize: $150 FairPrice shopping vouchers
·     3rd Prize: $100 FairPrice shopping vouchers
·     6 x Merit Prizes: $30 FairPrice shopping vouchers each
TERMS AND CONDITIONS
This contest is open to all residents living in Jurong GRC, Bukit Batok SMC and Yuhua SMC – limited to Singaporeans and PRs only (except employees of Jurong-Clementi Town Council, or the immediate family members of the Organiser and their affiliates).
Photograph(s) submitted must be the entrant's own work and he/she must own the copyright of the entry.
Photograph entries must be taken in Jurong-Clementi divisions (Jurong GRC, Bukit Batok SMC and Yuhua SMC).
All entries must be submitted to Jurong-Clementi Town Council by 30 September 2022, 2359 hours via a) online contest form or b) email to enquiry@jrtc.org.sg. Entries must include the entrant's name, contact number, address and the location the photo was taken.
Late entries will not be accepted and shall be disqualified.
There is no limit on the number of entries per person. However, each entrant is allowed to submit a maximum of 1 photograph.
Photographs that have won prizes in other photography Competition, or have been previously used or are intended to be used for any kind of commercial purposes, must not be submitted.
Photograph(s) should not include any objectionable content. The organiser shall have sole and absolute discretion to decide whether content is objectionable. Photograph(s) deemed to be objectionable shall be disqualified.
The organiser reserves the sole and absolute discretion to exclude or disqualify any submission(s) and/or entry from the contest.
Digital manipulation that distorts the reality of the photographs is not allowed. Only basic enhancements, such as sharpening, contrast adjustment, conversion of colour images to be black and white are allowed.
Each photograph entry must be submitted digitally in JPEG format and be no larger than 10MB in size. The longest side of the photograph must be at least 2,000 pixels in JPEG format.
By participating in this contest, the entrant warrants that he/she has not trespassed into any areas closed to the public and has put the welfare of the subject (if applicable) foremost and has not obtained the photograph via any unethical means.
Winners will be selected and notified by 1 November 2022 via email.
Winners may be interviewed by the organiser. All winners consent to public disclosure of their names and the results of the contest.
Upon submission, the entrant grants Jurong-Clementi Town Council and its associates a non-exclusive, royalty-free and transferable right to a) use, store, reproduce, publish, publicly display, print, edit or distribute any materials submitted for the Contest in any media format and channels (including website, collaterals and social media platforms) for the Jurong-Clementi Town Council's publicity, promotional and/or marketing purposes.
Jurong-Clementi Town Council reserves the right, at any time, to cancel, modify or suspend the contest.